Best Restaurant in Windsor
Indian Swaad is the new and improved version of Swaad. We have the biggest dine-in area in the region. Thus, we can serve 300 people at once. Also, we have added several new items to the menu. We are the best restaurant in Windsor. Whether you want to have a fun meal with your friends or family, or a romantic date, this is the place for you.
When we started in 2019, we had a very small establishment. With the love and support of the local community we were able to grow. Today, we have a nice, big place with large dine-in area and a party hall. None of this would have been possible without our amazing customers. So, we would like to thank you for making us the best restaurant in Windsor.
Book a table in advance to make sure you don't have to wait. We are often full packed during the weekends. Fill out the form and we will confirm your reservation via email shortly.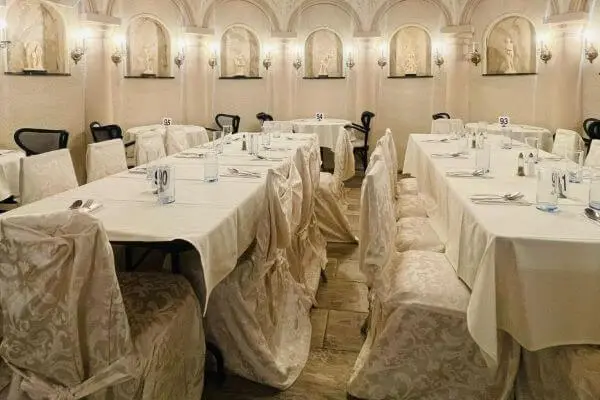 We are very proud of our large dine-in area. There are not many restaurants in Windsor with such a huge space. Up to 300 people can dine at the restaurant. Plus, we have a party hall with capacity of up to 200 people. Thus, we can serve delicious Indian food to as many as 500 people at once. However, we are still full on weekends and special occasions. So, it is always better to book a table in advance to avoid waiting for your turn.
It's not just the size that is impressive. But there is also the art and architecture. It will mesmerize you the moment you step into Indian Swaad. Moreover, there is live music at weekends. With all this, we have created the best restaurant in Windsor. So, book your table today and enjoy delicious Indian food. Call 519-252-8111 or fill the form above.
Indian cuisine is known for its diverse flavors, rich spices and unique cooking methods. We offer a wide variety of dishes to choose from, including tandoori chicken, biryani, samosas, and curries. You will get a wide variety of authentic dishes made with the freshest ingredients. Our chefs are experts in traditional cooking techniques, which ensures that every item is full of flavor and aroma. The menu has a long list of vegetarian and non-vegetarian options, making us the best restaurant in Windsor. Also, we offer a range of desserts and drinks to complete your dining experience.
Moreover, we provide catering services for all types of occasions, from small parties to large corporate events. Our team will work with you to create a customized menu that meets your needs and budget. If you have not finalized the venue yet, you can take a look at our party hall. It has a capacity of 200 pax. Our complete package also includes decoration and entertainment.